Burke and Wills Departure - Canvas Prints
Regular price
$246.00 CAD
Regular price
Sale price
$246.00 CAD
Unit price
per
Sale
Original Artwork - contact me to enquire
Join the Ade Blakey Art List

Join the Ade Blakey Art List to get discounts on prints, and to be first to know about new releases and exhibitions.

Plus you'll get a sneak preview of what's on the easel and tons of curated art news from right around the world.
Shipping & Returns

Our prints are shipped in strong protective packaging to protect them during transportation.

But if your artwork arrives a little bumped or bruised, we'll do everything we can to quickly rectify the problem. Dont hestitate to get in touch!

Our full shipping and refund polices are available here and here.
Limited Edition Prints

Limited edition prints hand-signed and numbered by Ade Blakey may be available for certain artworks.

Please use the Contact page to enquire.

Please note that the print advertised on this page is not from a limited edition.
Original Art Works - Enquire

Please use the Contact page to enquire about the availability, prices and shipping of original canvases. Originals are not generally sold online.
Gallery and Licensing Enquiries

Enquiries from art galleries are very welcome!

Want to use some art for a project or product of your own? We'd love to hear from you. Our artworks must not be used without a license.

Contact us here to make enquiries.
© Artwork copyright Adrian Blakey 2022

All art on this site is the original copyright work of Adrian Blakey and MUST NOT be used or copied without written permission.

Copyright also applies to photos, artwork descriptions and all images of artworks accessible on this website. 
Print Size: 60 cm X 80 cm / 24 X 32 inches
By 1855 Australia's colonies were competing to find possible routes for an overland telegraph route that could link the country to Java, and from there on to Europe. 

The Victorian government funded an expedition to be led by explorers Burke and Wills to find a suitable route. It required them to cross inland Australia at a time when little was known of its vast interior.

Their expedition was to cross from Melbourne in the south to the Gulf of Carpentaria in the north, a total round trip of some 6,400 km. For its time, this was the equivalent of a moonshot.
This excited the population and in 1860, fifteen thousand people gathered to watch the expedition's departure, an enormous crowd for a Melbourne which had only been founded as a settlement in 1835, just 25 years prior.
The expedition ended in disaster with both leaders perishing.  Of the nineteen men setting out, only one returned alive.

Nonetheless, an attempt to explore an unknown continent remains significant, and Burke and Wells remain well known in Australia. For these reasons, I'm including this event in my Worldscape Collection.
A photograph of the departure is not available so in this case I've turned to a black and white lithograph which appears to have been first published in the Illustrated Australasian News in May 1881. This appears to be by "A H Massina and Co". As far as I can tell, this is in turn based on an earlier engraving by Albert Henry Fullwood. 
My impression uses a section of the of the lithograph as its inspiration. While keeping to the essential outline, my painting is in a modern style. Unlike the lithograph, one of the explorers has his hand raised to meet the setting sun at the top-left. Yet the sun is simultaneously rising at the bottom right, a hint that not all may go to plan.
Share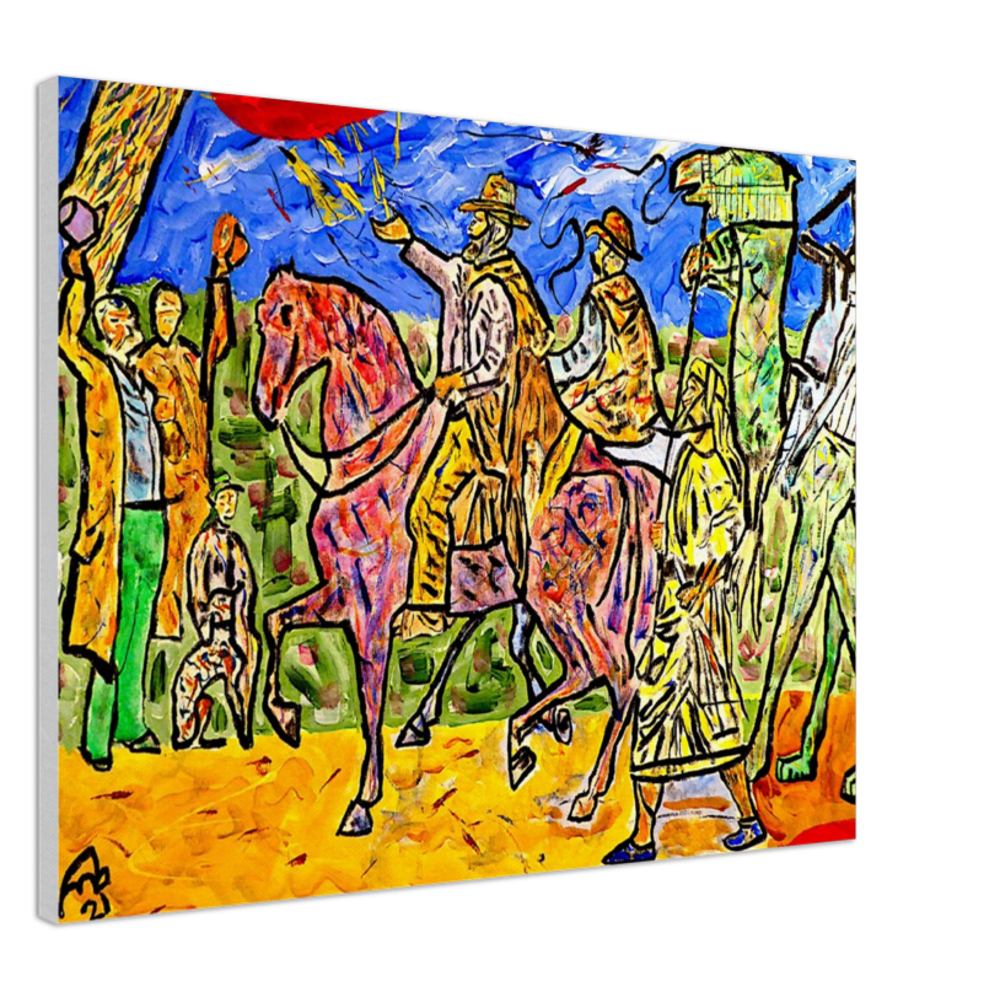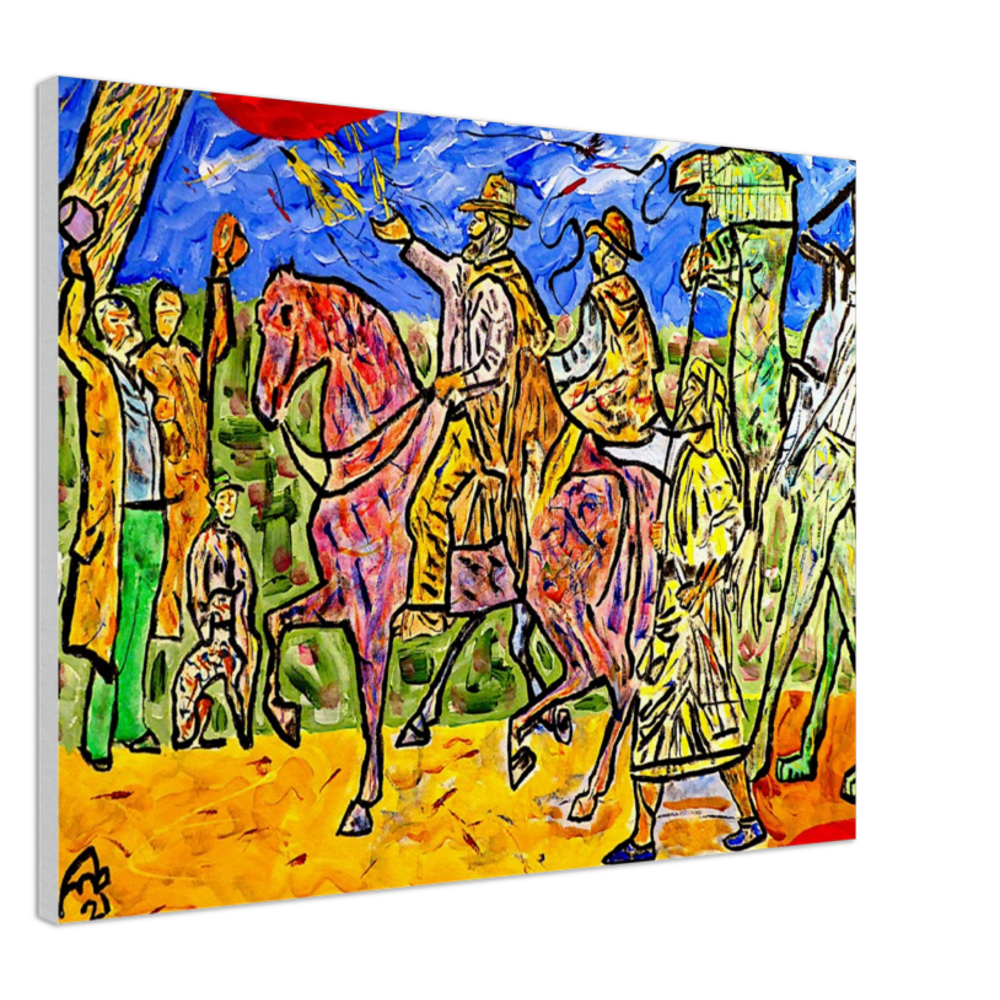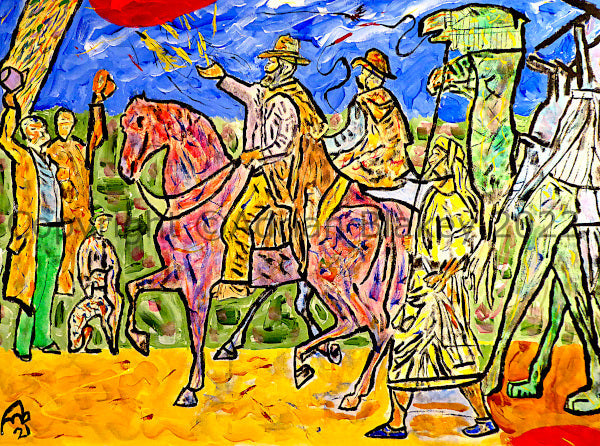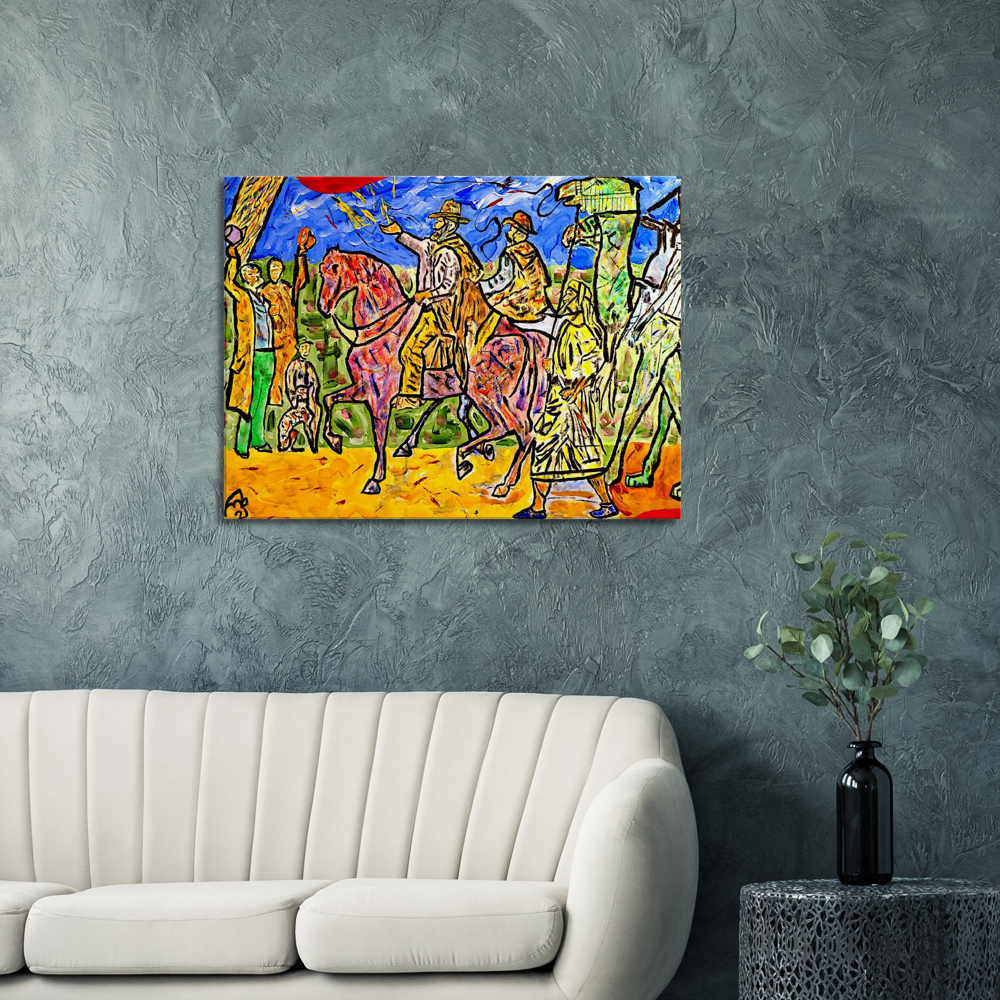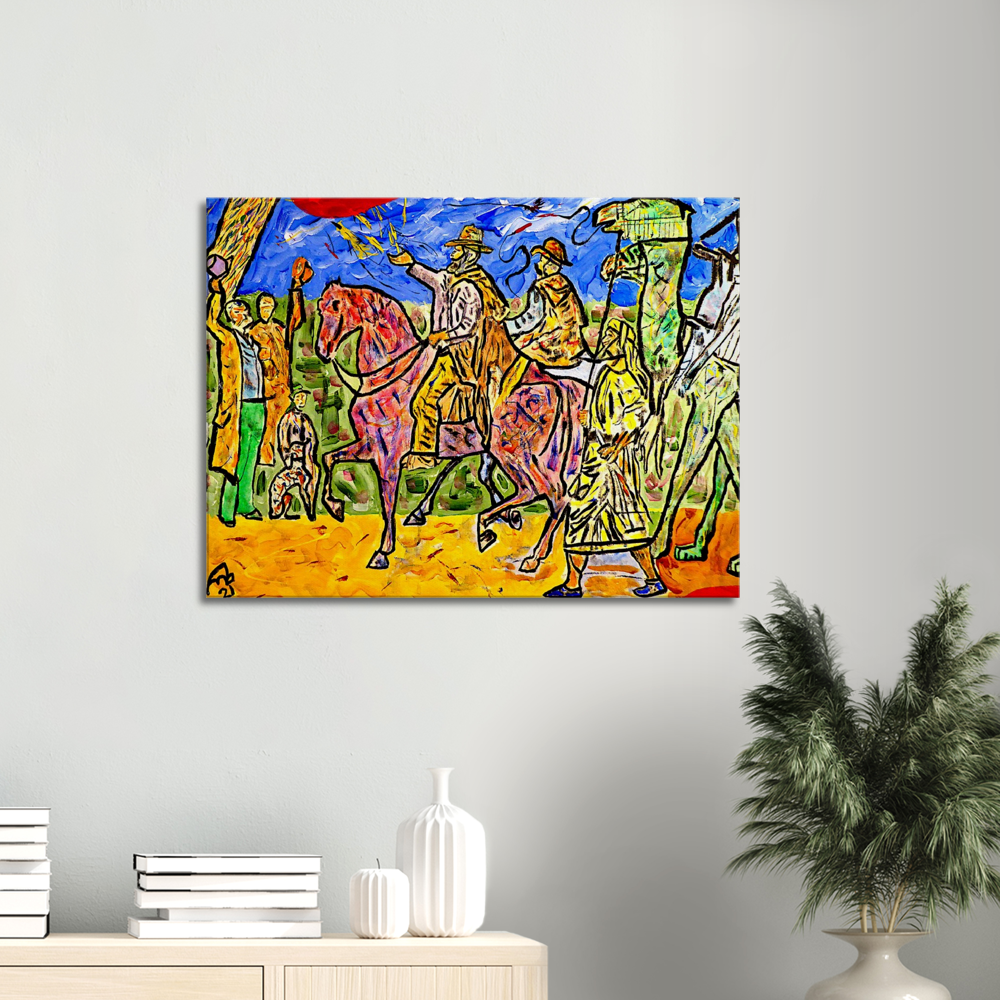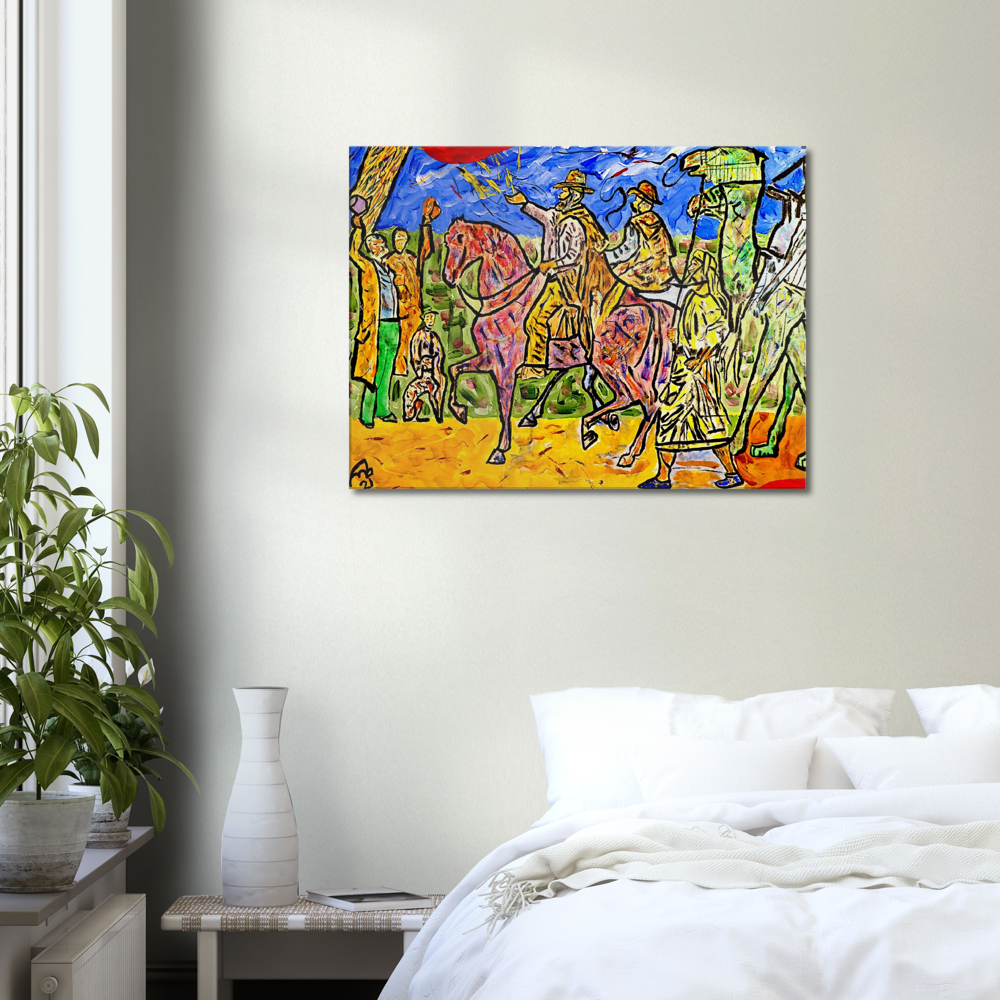 Art that excites. Prints that delight.

Featured art works are available as canvas prints . Offerings change each week so come back often and join the Ade Blakey Art List to stay informed.

Want the original?

Some original art works are offered for sale. We welcome enquiries and would be pleased to provide more information, pricing and shipping information.
Worldscape Collection
Vendor:

Regular price

From $100.00 CAD

Regular price

Sale price

From $100.00 CAD

Unit price

per

Vendor:

Regular price

From $164.00 CAD

Regular price

Sale price

From $164.00 CAD

Unit price

per

Vendor:

Regular price

From $118.00 CAD

Regular price

Sale price

From $118.00 CAD

Unit price

per

Vendor:

Regular price

From $100.00 CAD

Regular price

Sale price

From $100.00 CAD

Unit price

per

Vendor:

Regular price

From $164.00 CAD

Regular price

Sale price

From $164.00 CAD

Unit price

per

Vendor:

Regular price

From $118.00 CAD

Regular price

Sale price

From $118.00 CAD

Unit price

per

Vendor:

Regular price

From $109.00 CAD

Regular price

Sale price

From $109.00 CAD

Unit price

per

Vendor:

Regular price

From $100.00 CAD

Regular price

Sale price

From $100.00 CAD

Unit price

per

Vendor:

Regular price

From $118.00 CAD

Regular price

Sale price

From $118.00 CAD

Unit price

per

Vendor:

Regular price

From $164.00 CAD

Regular price

Sale price

From $164.00 CAD

Unit price

per

Vendor:

Regular price

From $155.00 CAD

Regular price

Sale price

From $155.00 CAD

Unit price

per
This week's featured prints