Desert Ice
Join the Ade Blakey Art List

Join the Ade Blakey Art List to get discounts on prints, and to be first to know about new releases and exhibitions.

Plus you'll get a sneak preview of what's on the easel and tons of curated art news from right around the world.
Original Art Works - Enquire

Please use the Contact page to enquire about the availability, prices and shipping of original canvases. Originals are not generally sold online.
Limited Edition Prints

Limited edition prints hand-signed and numbered by Ade Blakey may be available for certain artworks.

Please use the Contact page to enquire.
Gallery and Licensing Enquiries

Enquiries from art galleries are very welcome!

Want to use some art for a project or product of your own? We'd love to hear from you. Our artworks must not be used without a license.

Contact us here to make enquiries.
© Artwork copyright Adrian Blakey 2022

All art on this site is the original copyright work of Adrian Blakey and MUST NOT be used or copied without written permission.

Copyright also applies to photos, artwork descriptions and all images of artworks accessible on this website. 
 Acrylic on canvas     76 X 56 cm / 30 X 22 inches
This painting was exhibited at MADS  Contemporary Art Gallery in Milan. View the curator's review here.
About Desert Ice
This abstract painting depicts a harsh desert-like world comprised of only rock, sun and sky. Incongruously, blocks of ice in red, white and blue, the national colors of many countries, trap creatures in a snap-frozen state in a landscape that is itself flag-like.
Yet as ice has no natural place in the desert, the entombed creatures are breaking free of the ice.
Blown in the sky is the red curve of a humanoid figure, suggesting the recent arrival of organized society. The snake-like heads at each end suggest danger.
This evolving curve is cause for optimism as it connects with the ascending balloon, filled with the promise of new ideas. The artist's palette resting on the curve suggests that a better future can be envisaged.

Share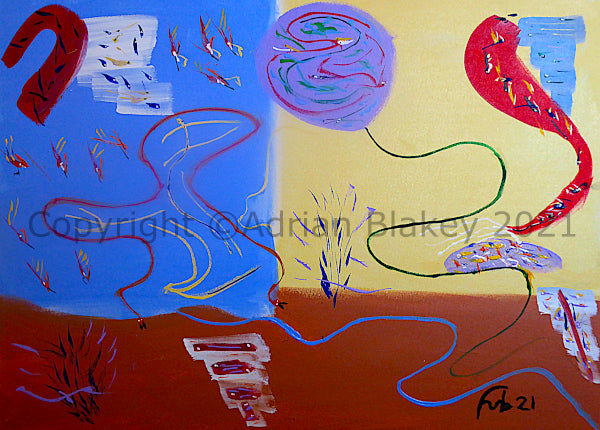 Art that excites. Prints that delight.

Featured art works are available as canvas prints . Offerings change each week so come back often and join the Ade Blakey Art List to stay informed.

Want the original?

Some original art works are offered for sale. We welcome enquiries and would be pleased to provide more information, pricing and shipping information.
This week's featured prints