John F Kennedy, 35th U.S. President
Join the Ade Blakey Art List

Join the Ade Blakey Art List to get discounts on prints, and to be first to know about new releases and exhibitions.

Plus you'll get a sneak preview of what's on the easel and tons of curated art news from right around the world.
Original Art Works - Enquire

Please use the Contact page to enquire about the availability, prices and shipping of original canvases. Originals are not generally sold online.
Limited Edition Prints

Limited edition prints hand-signed and numbered by Ade Blakey may be available for certain artworks.

Please use the Contact page to enquire.
Gallery and Licensing Enquiries

Enquiries from art galleries are very welcome!

Want to use some art for a project or product of your own? We'd love to hear from you. Our artworks must not be used without a license.

Contact us here to make enquiries.
© Artwork copyright Adrian Blakey 2022

All art on this site is the original copyright work of Adrian Blakey and MUST NOT be used or copied without written permission.

Copyright also applies to photos, artwork descriptions and all images of artworks accessible on this website. 
 Acrylic on canvas     30.5 X 30.5 cm / 12 X 12 inches
JFK was president during a time of profound social unrest. Here, the stripes of the American flag are stylized as flames consuming his face. The only flesh tones used in this portrait are the tears wept by the subject. 
Together with wife Jackie Kennedy, John F Kennedy influenced a generation dominated by the tumultuous events of the Vietnam War, the Cuban missile crisis and the Bay Of Pigs invasion.
The JFK assassination remains one of America's most controversial events. The president was assassinated in Dallas, Texas, while riding in a presidential motorcade.
Share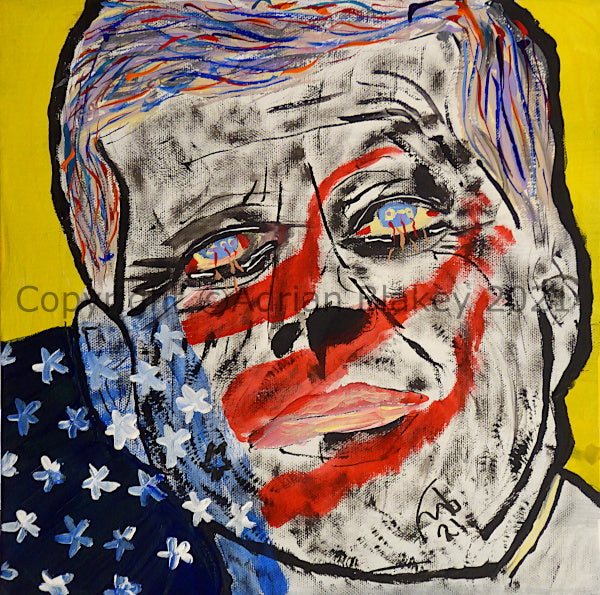 Art that excites. Prints that delight.

Featured art works are available as canvas prints . Offerings change each week so come back often and join the Ade Blakey Art List to stay informed.

Want the original?

Some original art works are offered for sale. We welcome enquiries and would be pleased to provide more information, pricing and shipping information.
This week's featured prints