Miles Davis Jazz Trumpeter
Join the Ade Blakey Art List

Join the Ade Blakey Art List to get discounts on prints, and to be first to know about new releases and exhibitions.

Plus you'll get a sneak preview of what's on the easel and tons of curated art news from right around the world.
Original Art Works - Enquire

Please use the Contact page to enquire about the availability, prices and shipping of original canvases. Originals are not generally sold online.
Limited Edition Prints

Limited edition prints hand-signed and numbered by Ade Blakey may be available for certain artworks.

Please use the Contact page to enquire.
Gallery and Licensing Enquiries

Enquiries from art galleries are very welcome!

Want to use some art for a project or product of your own? We'd love to hear from you. Our artworks must not be used without a license.

Contact us here to make enquiries.
© Artwork copyright Adrian Blakey 2022

All art on this site is the original copyright work of Adrian Blakey and MUST NOT be used or copied without written permission.

Copyright also applies to photos, artwork descriptions and all images of artworks accessible on this website. 
 Oil on canvas   76 X 51 cm / 30 X 20 inches
I love cool jazz with its stirring blues tempos and lighter tones. And one of the coolest  pieces of all time was So What from the Kind of Blue album by Mile Davis. As well as being a legendary trumpeter, Davis was a bandleader, and composer. 
He put together a band featuring some of the biggest and most enduring names of the period. In addition to Miles himself, this album featured a stellar lineup of John Coltrane on tenor sax, Cannonball Adderley on alto sax, Bill Evans on piano, Paul Chambers on bass and Jimmy Cobb on drums.
I came across a grainy old video on YouTube of the band performing So What. It inspired this abstract impression of Miles performing.  
In this painting, I was seeking to capture a minimal impression of the performer's intense concentration and passion. The background color adds to the tension of the performance, while the blocks of color comprising his face are inspired by  the apparent simplicity yet sophistication of his multi-layered compositions.
Share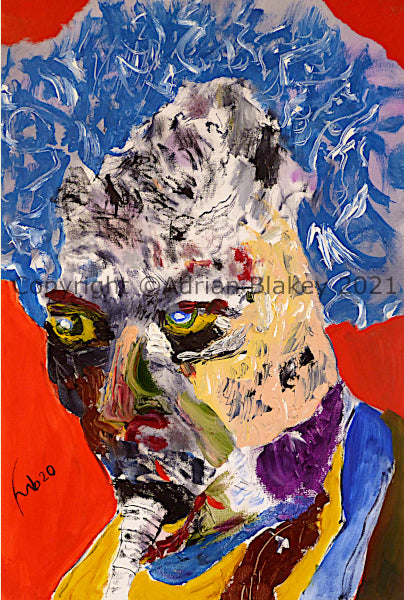 Art that excites. Prints that delight.

Featured art works are available as canvas prints . Offerings change each week so come back often and join the Ade Blakey Art List to stay informed.

Want the original?

Some original art works are offered for sale. We welcome enquiries and would be pleased to provide more information, pricing and shipping information.
This week's featured prints