Taj Mahal, Agra India - Canvas Prints
Regular price
Sale price
€80,95 EUR
Unit price
per
Sale
Original Artwork - contact me to enquire
Join the Ade Blakey Art List

Join the Ade Blakey Art List to get discounts on prints, and to be first to know about new releases and exhibitions.

Plus you'll get a sneak preview of what's on the easel and tons of curated art news from right around the world.
Shipping & Returns

Our prints are shipped in strong protective packaging to protect them during transportation.

But if your artwork arrives a little bumped or bruised, we'll do everything we can to quickly rectify the problem. Dont hestitate to get in touch!

Our full shipping and refund polices are available here and here.
Limited Edition Prints

Limited edition prints hand-signed and numbered by Ade Blakey may be available for certain artworks.

Please use the Contact page to enquire.

Please note that the print advertised on this page is not from a limited edition.
Original Art Works - Enquire

Please use the Contact page to enquire about the availability, prices and shipping of original canvases. Originals are not generally sold online.
Gallery and Licensing Enquiries

Enquiries from art galleries are very welcome!

Want to use some art for a project or product of your own? We'd love to hear from you. Our artworks must not be used without a license.

Contact us here to make enquiries.
© Artwork copyright Adrian Blakey 2022

All art on this site is the original copyright work of Adrian Blakey and MUST NOT be used or copied without written permission.

Copyright also applies to photos, artwork descriptions and all images of artworks accessible on this website. 
The Taj Mahal is memorial architecture on a grand scale. This Islamic masterpiece took 20,000 artisans twenty years to construct in the mid 1600's. It's estimated that those 400,000 man years would cost the equivalent of USD $1 billion today.

Conceived as a mausoleum for a Mughal emperor to house the tomb of a wife, he is also entombed within it.
The structure is highly ornate being constructed from carved ivory-white marble. As one of the world's "seven wonders", it's a must for inclusion in my Worldscape Collection. 
But I paint in a naïve impressionistic style rooted in 20th century modernism. White-on-white detailed realism isn't what I paint.
I deliberately seek out subjects that challenge me to find my own interpretations. In this case, I filled the sections of the minarets with mini abstracts, while respecting the balance and flow of the original conception.
In the early stages of this work, I put it aside as I didn't think it would work. I instead started again and painted a completely different interpretation that you can find here.
But after painting a few more of the works in this collection, I realized how to approach it and returned to complete it.
Share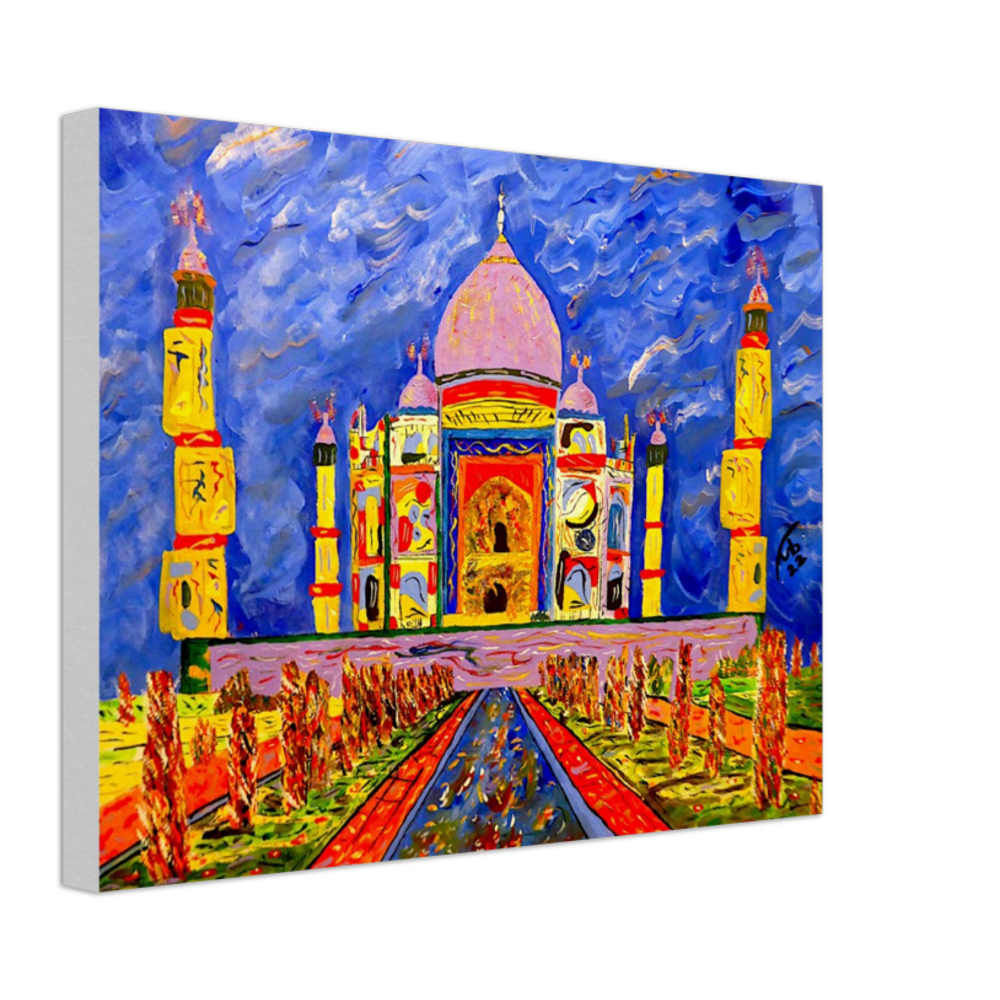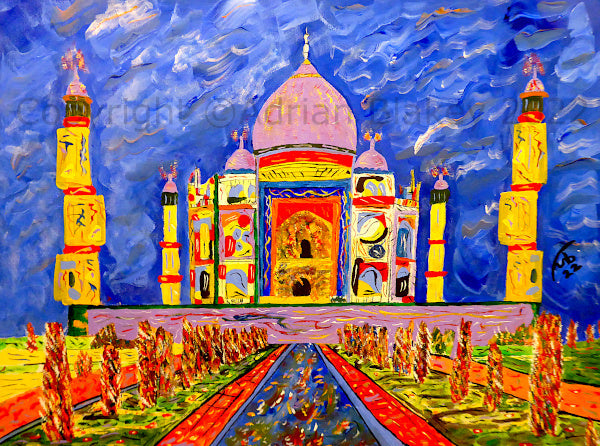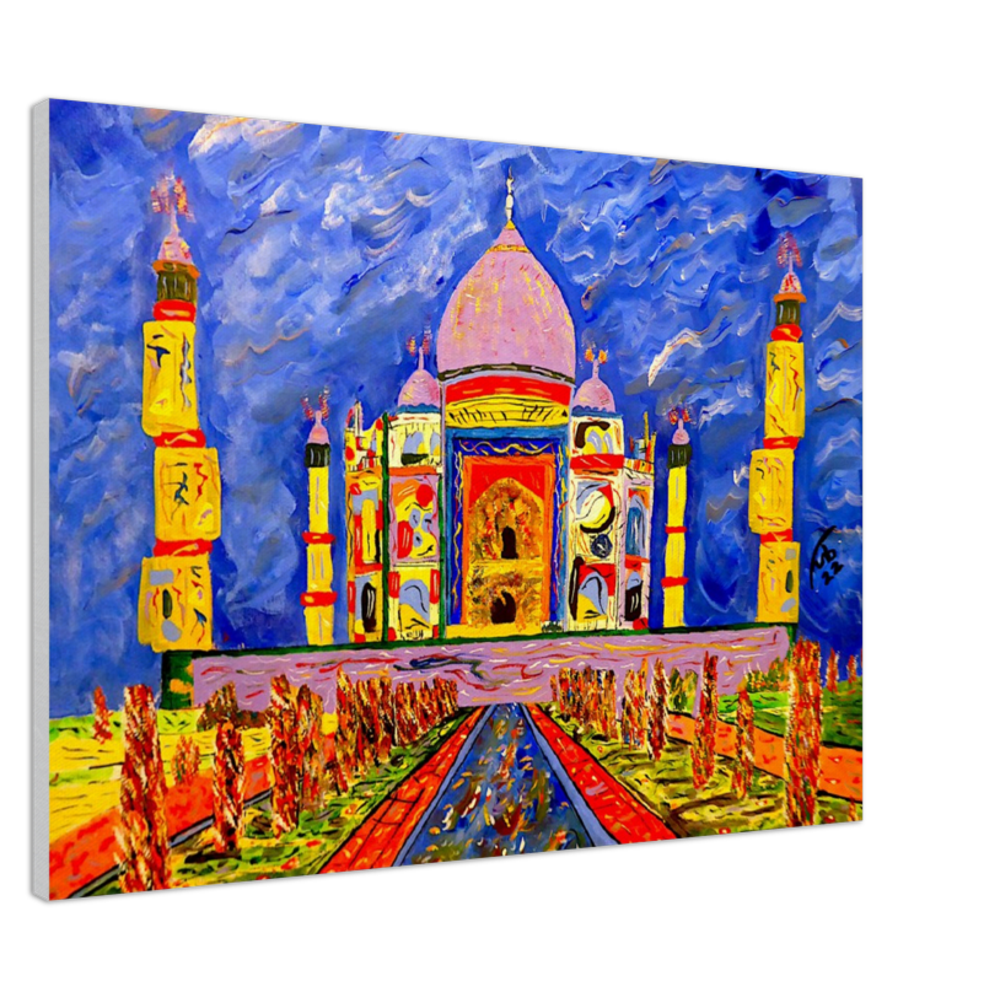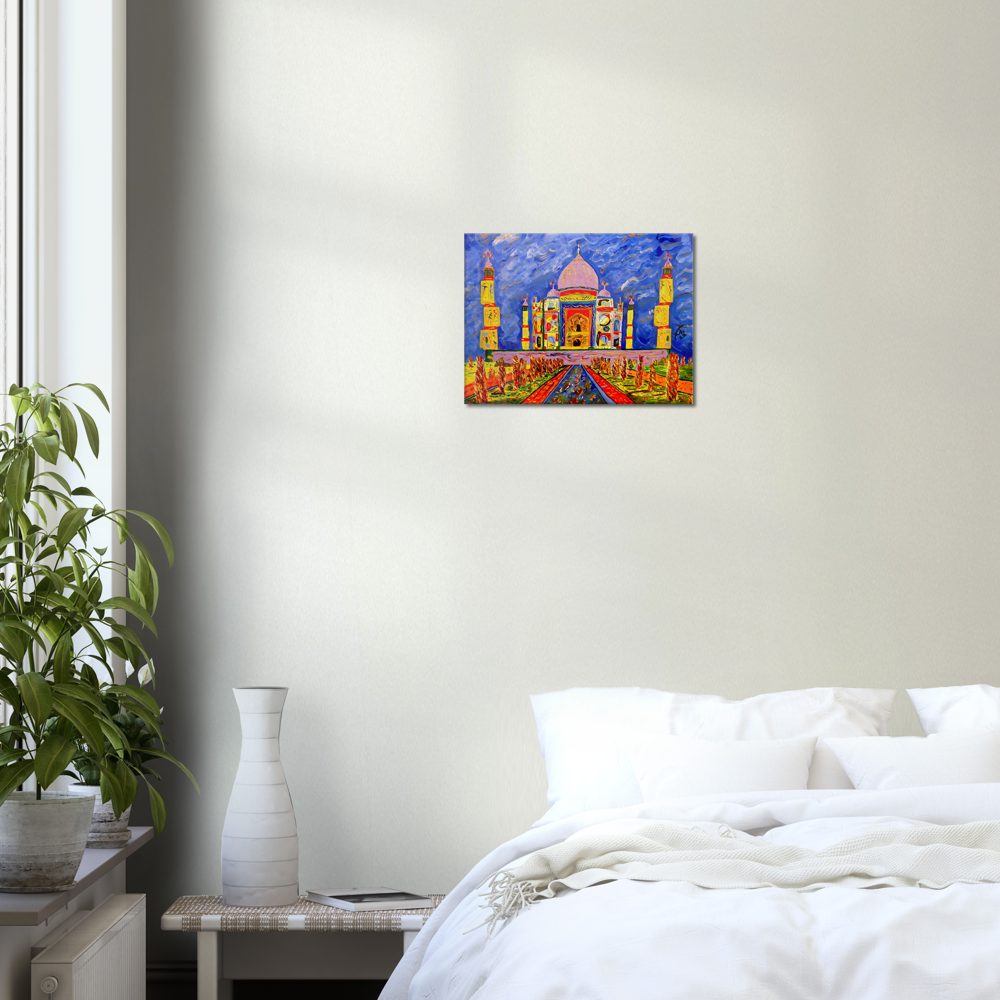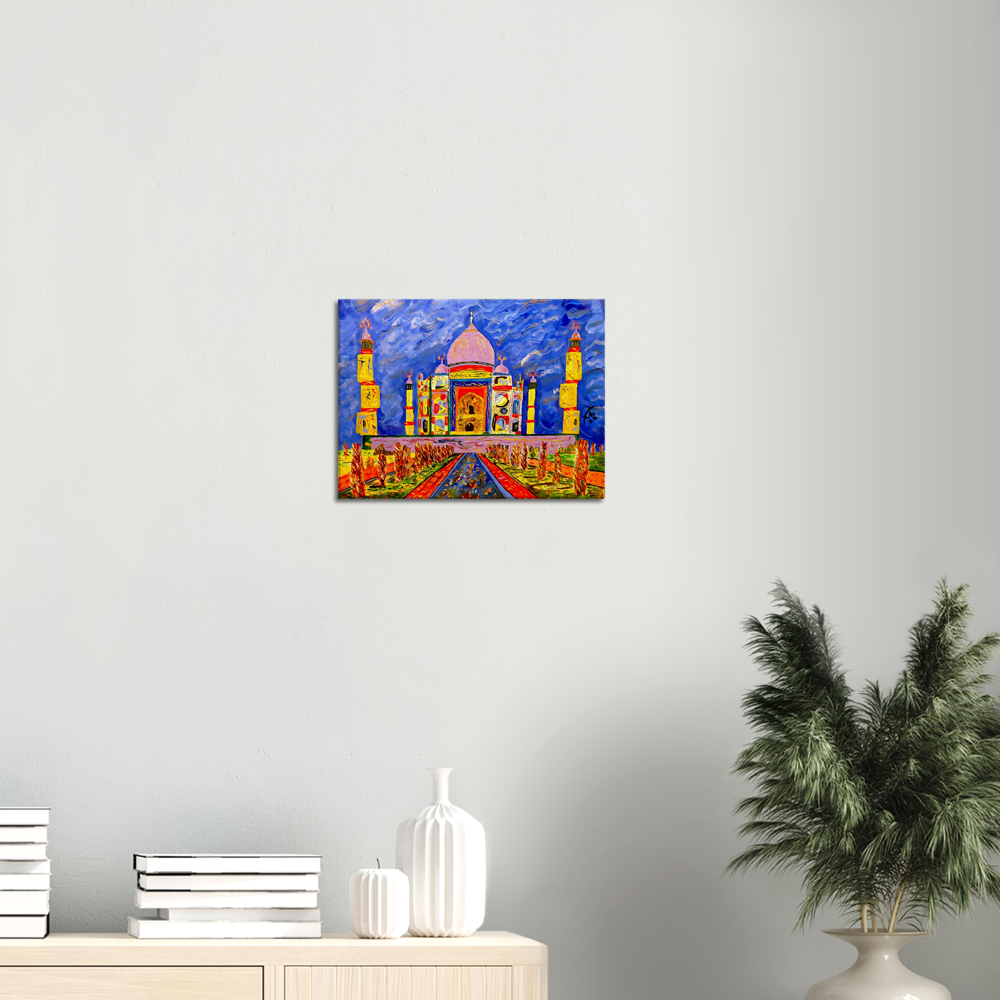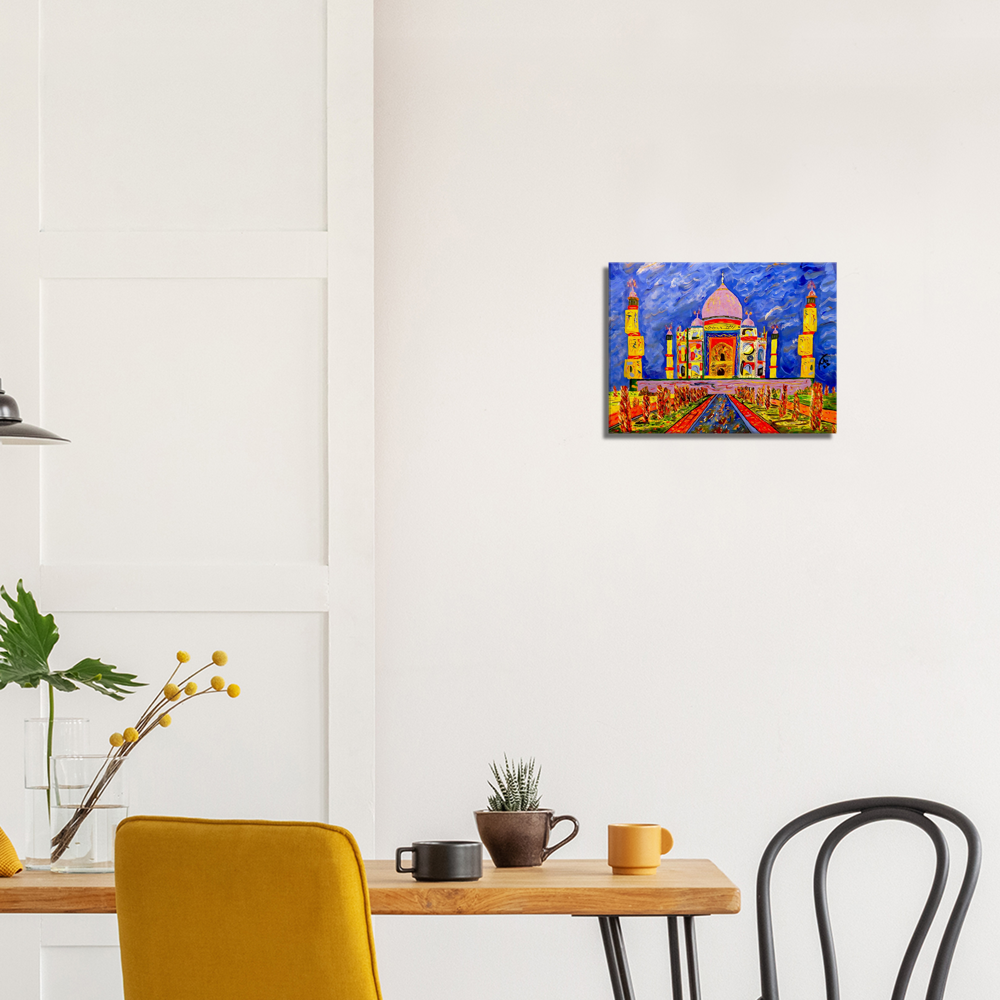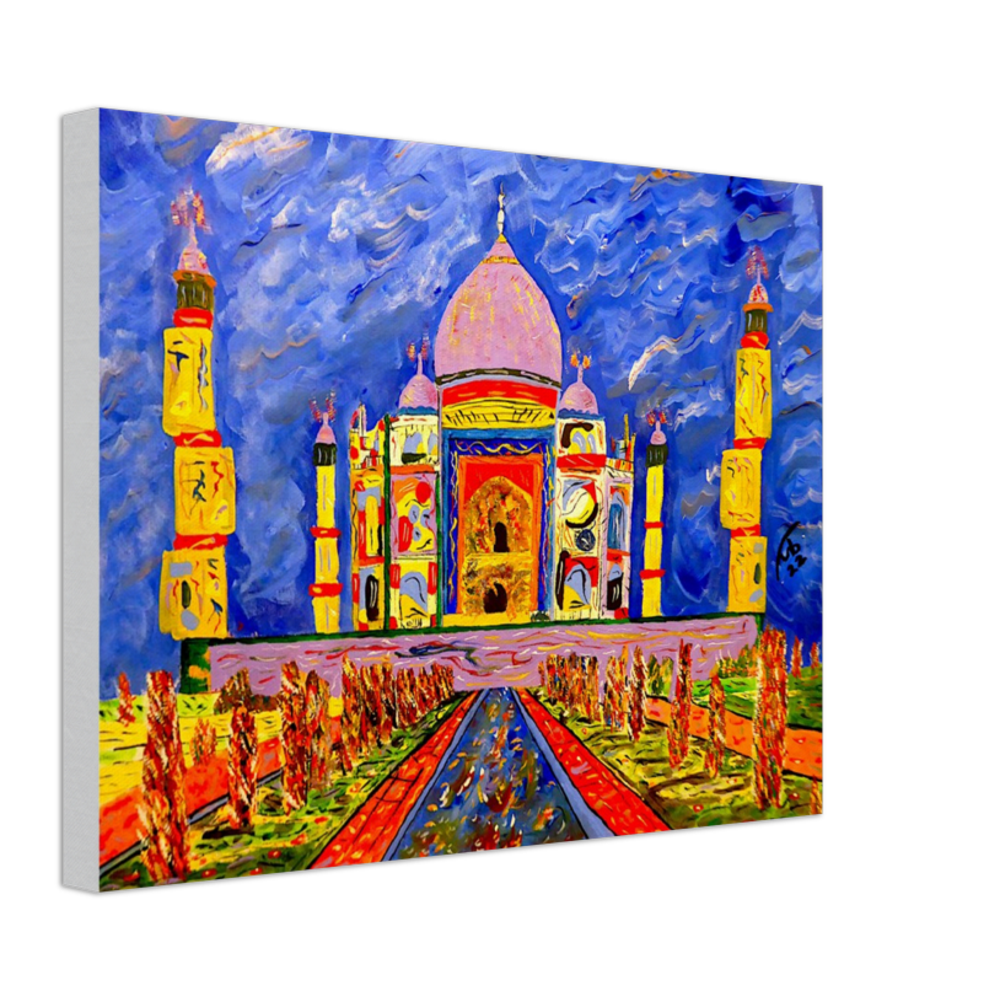 Art that excites. Prints that delight.

Featured art works are available as canvas prints . Offerings change each week so come back often and join the Ade Blakey Art List to stay informed.

Want the original?

Some original art works are offered for sale. We welcome enquiries and would be pleased to provide more information, pricing and shipping information.
Worldscape Collection
Vendor:

Regular price

From €68,95 EUR

Regular price

Sale price

From €68,95 EUR

Unit price

per

Vendor:

Regular price

From €111,95 EUR

Regular price

Sale price

From €111,95 EUR

Unit price

per

Vendor:

Regular price

From €80,95 EUR

Regular price

Sale price

From €80,95 EUR

Unit price

per

Vendor:

Regular price

From €68,95 EUR

Regular price

Sale price

From €68,95 EUR

Unit price

per

Vendor:

Regular price

From €111,95 EUR

Regular price

Sale price

From €111,95 EUR

Unit price

per

Vendor:

Regular price

From €80,95 EUR

Regular price

Sale price

From €80,95 EUR

Unit price

per

Vendor:

Regular price

From €74,95 EUR

Regular price

Sale price

From €74,95 EUR

Unit price

per

Vendor:

Regular price

From €68,95 EUR

Regular price

Sale price

From €68,95 EUR

Unit price

per

Vendor:

Regular price

From €80,95 EUR

Regular price

Sale price

From €80,95 EUR

Unit price

per

Vendor:

Regular price

From €111,95 EUR

Regular price

Sale price

From €111,95 EUR

Unit price

per

Vendor:

Regular price

From €105,95 EUR

Regular price

Sale price

From €105,95 EUR

Unit price

per
This week's featured prints