Flinders Street Station and the Eureka Tower Melbourne
Join the Ade Blakey Art List

Join the Ade Blakey Art List to get discounts on prints, and to be first to know about new releases and exhibitions.

Plus you'll get a sneak preview of what's on the easel and tons of curated art news from right around the world.
Original Art Works - Enquire

Please use the Contact page to enquire about the availability, prices and shipping of original canvases. Originals are not generally sold online.
Limited Edition Prints

Limited edition prints hand-signed and numbered by Ade Blakey may be available for certain artworks.

Please use the Contact page to enquire.
Gallery and Licensing Enquiries

Enquiries from art galleries are very welcome!

Want to use some art for a project or product of your own? We'd love to hear from you. Our artworks must not be used without a license.

Contact us here to make enquiries.
© Artwork copyright Adrian Blakey 2022

All art on this site is the original copyright work of Adrian Blakey and MUST NOT be used or copied without written permission.

Copyright also applies to photos, artwork descriptions and all images of artworks accessible on this website. 
Acrylic on canvas   102 X 76 cm / 40 X 30 inches
"I'll meet you under the clocks" 
The steps of Flinders Street Station have been a meeting point for over a hundred years. Couples fly from overseas to take wedding pictures in front of this uniquely federation era icon, one of the world's busiest commuter stations.
At 300m tall, the Eureka Tower looms behind, another example of Melbourne's quirky and distinctive architecture.  
While their architectures are radically different, both buildings share a common root, the year 1854.
In that year, a railway station first opened on this site. Victoria was in the midst of its gold rush that saw Melbourne grow rapidly. 
A gold miners' rebellion also occurred in 1854 at nearby Ballarat. Known in local folklore as the Battle of the Eureka Stockade, the namesake of this building, it resulted in 27 deaths and scores of injuries. The vertical red stripe on the building, incorporated into the painting, represents the blood spilt in the uprising.
In this picture, I've used abstraction to represent the peak hour crowds rushing under the clocks and along the footpaths. The eyes on the domes represent the station watching over generations of Melburnians.

As a Melburnian myself, this is a natural inclusion in my Worldscape Collection of globally significant sites.
Share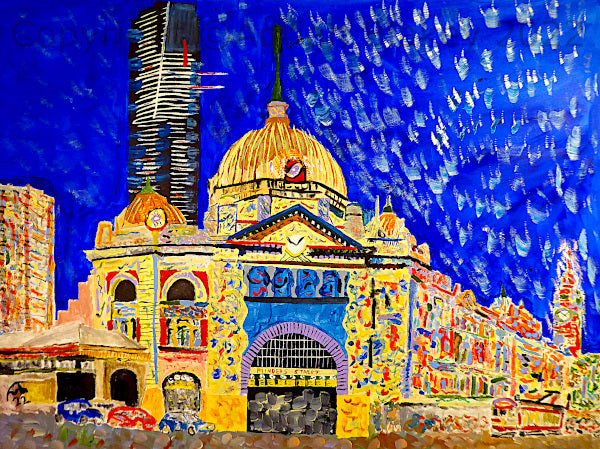 Art that excites. Prints that delight.

Featured art works are available as canvas prints . Offerings change each week so come back often and join the Ade Blakey Art List to stay informed.

Want the original?

Some original art works are offered for sale. We welcome enquiries and would be pleased to provide more information, pricing and shipping information.
This week's featured prints