Pablo Picasso
Join the Ade Blakey Art List

Join the Ade Blakey Art List to get discounts on prints, and to be first to know about new releases and exhibitions.

Plus you'll get a sneak preview of what's on the easel and tons of curated art news from right around the world.
Original Art Works - Enquire

Please use the Contact page to enquire about the availability, prices and shipping of original canvases. Originals are not generally sold online.
Limited Edition Prints

Limited edition prints hand-signed and numbered by Ade Blakey may be available for certain artworks.

Please use the Contact page to enquire.
Gallery and Licensing Enquiries

Enquiries from art galleries are very welcome!

Want to use some art for a project or product of your own? We'd love to hear from you. Our artworks must not be used without a license.

Contact us here to make enquiries.
© Artwork copyright Adrian Blakey 2022

All art on this site is the original copyright work of Adrian Blakey and MUST NOT be used or copied without written permission.

Copyright also applies to photos, artwork descriptions and all images of artworks accessible on this website. 
 Acrylic on canvas     59.4 X 42.0 cm / 23.4 X 16.5 inches 
Pablo Picasso is one of the artists I most admire. Co-founder of the Cubist movement with Georges Braque, he invented and contributed to so many styles and forms of expression. While best known as a leading Spanish painter, he was also a renowned sculptor, printmaker, ceramicist and theatre designer.
Picasso's artworks and style varied so much over time that it is commonly grouped into distinct periods: the Blue Period (1901–1904), the Rose Period (1904–1906), the African-influenced Period (1907–1909), Analytic Cubism (1909–1912), and Synthetic Cubism (1912–1919). Later works feature elements of a neoclassical style and Surrealism. 
One of his best known and most respected paintings is Guernica which was inspired by the German aerial bombing of the Basque town during the Spanish Civil War. This painting was acquired by the Spanish government after the end of Franco fascist regime and is now on permanent exhibition in the Museo Reina Sofía in Madrid.
In my portrait of Picasso, I've tried to capture his extraordinary creative energy and capacity to innovate. The reflective hand clasped to his forehead is burning with a passion while all around him the complexity of his ideas and innovations crowd around him. It is difficult to do justice to Picasso as the subject of a painting.
You might also be interested in my portrait of Francois Gilot, one of Picasso's many partners. You can find it in my abstract portraits collection here.
Gilot was an accomplished modern artist in her own right. As with Dora Maar, one of his prior partners who was a renowned and artistic photographer,  both women featured as his muses and models for many Picasso paintings.
Share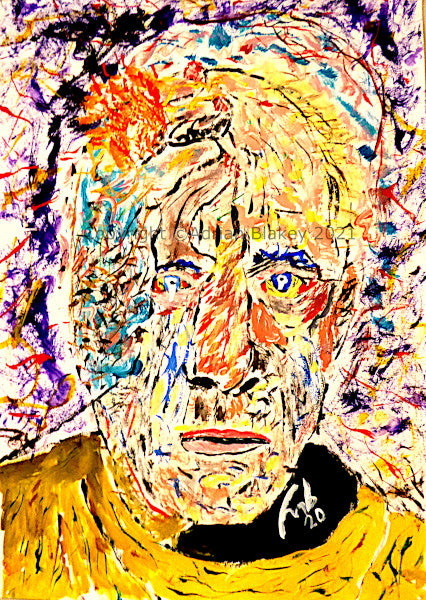 Art that excites. Prints that delight.

Featured art works are available as canvas prints . Offerings change each week so come back often and join the Ade Blakey Art List to stay informed.

Want the original?

Some original art works are offered for sale. We welcome enquiries and would be pleased to provide more information, pricing and shipping information.
This week's featured prints